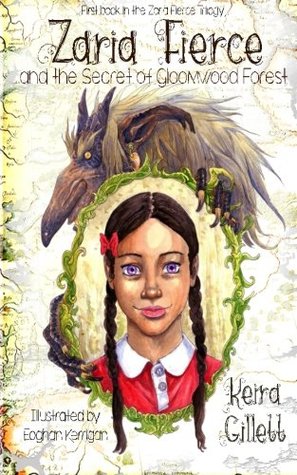 Author: Keira Gillett
Illustrator: Eoghan Kerrigan
Narrator (aubiobook): Michele Carpenter
Release Date: March 6th, 2015
Publisher: Keira Gillett
Pages: 224 (Paperback)
Format: PDF
Genre: MG | Fantasy | Adventure
Idiom: English
Series: Zaria Fierce #1
Read: from June 27 to 29, 2015
Source: Author | Kobo
ISBN: 9781942750017
Rating:


Get the Book: Amazon (e-book) | Amazon (print) | Audible


Synopsis:
On her birthday, Zaria Fierce finds her usual path to school blocked by an ugly river-troll. At first she's surprised and curious, but then Olaf threatens to eat her, which is an act Zaria could not in good conscience consent to, so Zaria counteroffers. A deal is struck and she goes to school, but Zaria is about to learn the hard way that one does not trick a river-troll and expect to win.

Disclaimer: Thank you Keira Gillett for providing me with a copy of this book in exchange for an honest review.
Based on Scandinavian folklore, Zaria Fierce was an adorable read. Set in Norway, we follow Zaria and her friends through an adventure filled with trolls, elves, changelings, dragons and much more. And what's more exciting? The book has amazing illustrations to accompany you during your journey. Check out some the illustrations:
They are quite amazing, aren't they? And the details? Eoghan Kerrigan did an amazing job with this illustrations 🙂
On her birthday Zaria is stopped at the bridge by a troll, Olaf, who asks payment so she can cross it. Thinking she tricked him, she's later faced with the disappearance of her friend and finds out that Olaf is behind it. Setting a deal with the troll, she leaves with a group of friends in search of the heart of the Gloomwood forest and has the adventure of her dreams.
Zaria is the protagonist and a nice character to meet. She's a bookworm (like me and you, of course :P) and always wanted to be part of an adventure. But, there's a bit more to her than what meets the eye and though we got a glimpse at why the fairy-people call her Princess, I'm hoping to read more about that in the future. She was funny, brave and an easy-going character to enjoy. Pretty much like her friends. They were hilarious at times and I found their friendship and connection amazing. I enjoyed them all and, have to be honest, can't really choose a favourite.
The plot is quite quick and easy to follow. It's pretty much straightforward with fantasy elements that reminded me slightly of Narnia. Actually, I think those who liked The Chronicles of Narnia will eventually enjoy this book. However, there's no wardrobe to enter this new fairy-tale land. It also reminded me of The Spiderwick Chronicles though I only saw the movie. The trolls were the reason to that 🙂
Keira Gillett's writing was also easy to read you basically read an entire chapter without realising it. It wasn't too childish but it wasn't also too tricky or too mature. It's a writing style that can be read by any age and anyone who simply wishes to leave reality behind and enter this fantasy world. The descriptions and the characters were very well developed. I only thought that sometimes, in the dialogue, these kids would use some rather complicated words.
There were a few twists that I didn't see coming and I thought those were really clever. And I also liked the fact that the protagonist has flaws and makes mistakes. I liked that side of the story.
Now, I have this say because I spent the whole book with this idea in my mind. I couldn't really take Olaf seriously because I kept picturing him like this:
I believe that Olaf is a typical Scandivanian name and maybe Keira wrote the book before Frozen came out but it's true. Can you imagine this happy snowman as a river troll? :D. 
Overall, Zaria Fierce and the Secret of Gloomwood Forest was a great book with a lovely story and amazing characters. It's a fantasy and adventure book that will be the delights of Narnia fans and those looking for a bit of Norwegian folklore thrown into it. Keira Gillett, and consequently illustrator Eoghan Kerrigan, created an adorable book that I will give to my niece to read in the future.
Guest Post:
Pronunciation Guide by Keira Gillett:
Hello and good morning to everyone! Thanks Ner for letting me take over your blog. I'm so glad I'm joining you today. My name is Keira Gillett and I just wrote and published my first book, Zaria Fierce and the Secret of Gloomwood Forest, the first book in a new Middle Grade/YA trilogy. It released earlier in March 2015. Because the setting of my book takes place in Norway and involves many Norwegian and Scandinavian words and names, so I thought I would provide a pronunciation guide. Here is how some of the names of characters and places are pronounced.
Disclaimer: The breakdown on syllables is not standardized or proper. Instead, I attempted to provide a phonetic breakdown. You will see short words (which are to be read with an American pronunciation) and conversational gap sounds. Vowels left alone should be pronounced like the letter and not as a sound. A few entries also have variations of the pronunciation.
First Names:
Zaria: – Zar·e·ah (or Czar·e·ah.)
This name could be pronounced like Mariah (Za·rye·ah) or like Maria (Za·re·ah) or Sarah (Zar·ah.)
Christoffer: Cris·toff·fir.
This is a variant of Christopher, Chris·toe·fur.
He doesn't like warm hugs.
Ner: OMG! I'm laughing so hard at this! Especially after what I wrote on my review 😀
Or you can think of it like Alex, but you will want to add a bit of an extra "s" sound at the end.
This name can also be pronounced like Guy·ear, Gey·er, Gay·ear, or if you must, Gear.
Ner: I actually read this name as Gear because of Top Gear xD
This name is very close to Phillip, which is usually said as Fill·lip.
Norwick: Nor·wick.
Jorkden: Jork·den.
Morvin: Moor·vin.
Frida: Free·dah.
Choosing this name was a nod to my grandmother, whom I loved dearly (although my grandma preferred Dr. Pepper to tea and M&;M's to tea cakes.)
This name is a variant of Edward.
Koll: Coal.
Helena: Hel·lay·nah.
Another way to say her name is Hel·eh·nah, but it sounds less exotic (to me.)
Last Names:
Magnusdotter: Mag·nus·dough·tea
Mickelsen: Mick·el·Seine.
It's like Nickel but with an M and the French river that runs through Paris.
Storstrand: Store·strand.
Places:
Fredrikstad: Freh·drik·stah.
Álfheim: Alf·hame.
Jötunheim: Yo·ton·hame.
You've seen Thor right?
Ner: Yes, I have (who hasn't?). But it's one of those name that come out of mouth like this: ARHSKLJDF (yeah, I can never pronounce this name properly :S)
Trolgar: Troll·gar.
Gloomwood: Gloom·wood.
Mythology:
Ellefolken: Elle·foal·kin or Elle·foal·ken.
Not to be confused with Vulcan, but similar enough.
One of the fun things about producing an audio book was getting to hear someone else say how I heard these names in my head. Michele and I would send links back and forth to various sites where these words and names were pronounced just to make sure we were on the same page. She does an absolutely marvelous job narrating.
Ner: Thank you so much Keira for this guide. I admit there were a few names that in my head sounded completely different 😛
Excerpt:
Geirr stooped to pick up some decent-sized sticks, and Zaria bent to grab a few too. They talked amicably and walked, stretching their legs, until they were too burdened by their loads to keep going.

"My arms are going to collapse," Zaria huffed. Her breath fogged around her face, covering and then revealing a well-pinked nose and cheeks. "Let's head back to camp."

"Sounds good to me," Geirr said and turned around to do just that. Zaria followed and collided into him, dropping her load of kindling all over the ground.

"Hey!" she exclaimed, as she went to gather them. "Why did you stop?"

"I don't think we're going to find camp," Geirr said, worrying his lip. He juggled his armful of wood and pointed haphazardly forward. "It's like pea soup."

Zaria looked up from playing fifty-two pickup and saw what worried Geirr. In front of them was a wall of fog, thick, viscous, and impossible to see through. She gulped and carefully set down the pile she'd been working to gather again. Was it her imagination or did the fog seem to be breathing? It crept closer in stages. Not fast enough that she saw it while looking directly at it, but if she looked away and back, it most definitely moved.

"Uh, Geirr," Zaria said, slowly gaining her feet. "I think we should move and fast."

Geirr looked at her puzzled. "I don't think fast is an option here. Now if you pick up your stack and stick near me maybe we can Marco Polo our way back to the others."

"Geirr," Zaria hissed, her voice ratcheting higher. "The fog is moving." He didn't look impressed. The breathing sounds from within the fog grew louder, distressing Zaria. "No seriously, it's moving like it's alive."

Geirr looked back again and stared hard, trying to penetrate the fog with his gaze alone. Zaria started to ease away, firewood forgotten.

"Come on, Geirr, we have to move. Can't you hear the breathing?"

"That isn't you?" he asked, alarmed.

"No!" Zaria shouted. "Run!"
About:
Keira Gillett (Author):
Keira Gillett is a technical publications librarian, book blogger, world traveler, artist, and now author.
She graduated from the University of Florida with a Bachelor of Arts in Drawing and Painting.
From an early age her mother instilled a love of the written word, as such she has always been a big reader.
Her first book, Zaria Fierce and the Secret of Gloomwood Forest, is about a young girl who must complete a quest to save her friend from a nasty river-troll.
Website | Twitter | Facebook | Pinterest 
Eoghan Kerrigan (Illustrator):
Eoghan Kerrigan is an illustrator from Kildare, Ireland who draws primarily fantasy characters and creatures.
He studied illustration in Ballyfermot College of Further Education and has produced work for various independent projects.
He has two cats and a soft spot for trolls.
Michele Carpenter (Narrator):
Michele Carpenter is an artist at heart, with a passion for acting.
She and her husband (also a voice actor) often work on projects together and help one another through the journey.
Together, they have three kids. Michele's children love to hear her read stories and beg her to edit her narrations in the same room with them so they can listen too.
It's partially for this reason that Michele has come to feel a personal responsibility to only record books that aren't inappropriate for children or young adults–at their respective age levels and according to the maturity levels of the books they're able to read.
"We never know how long we have on this earth and I'd rather leave behind a legacy of books that I'm not ashamed to have my friends, family and even future grandchildren, listen to forever."